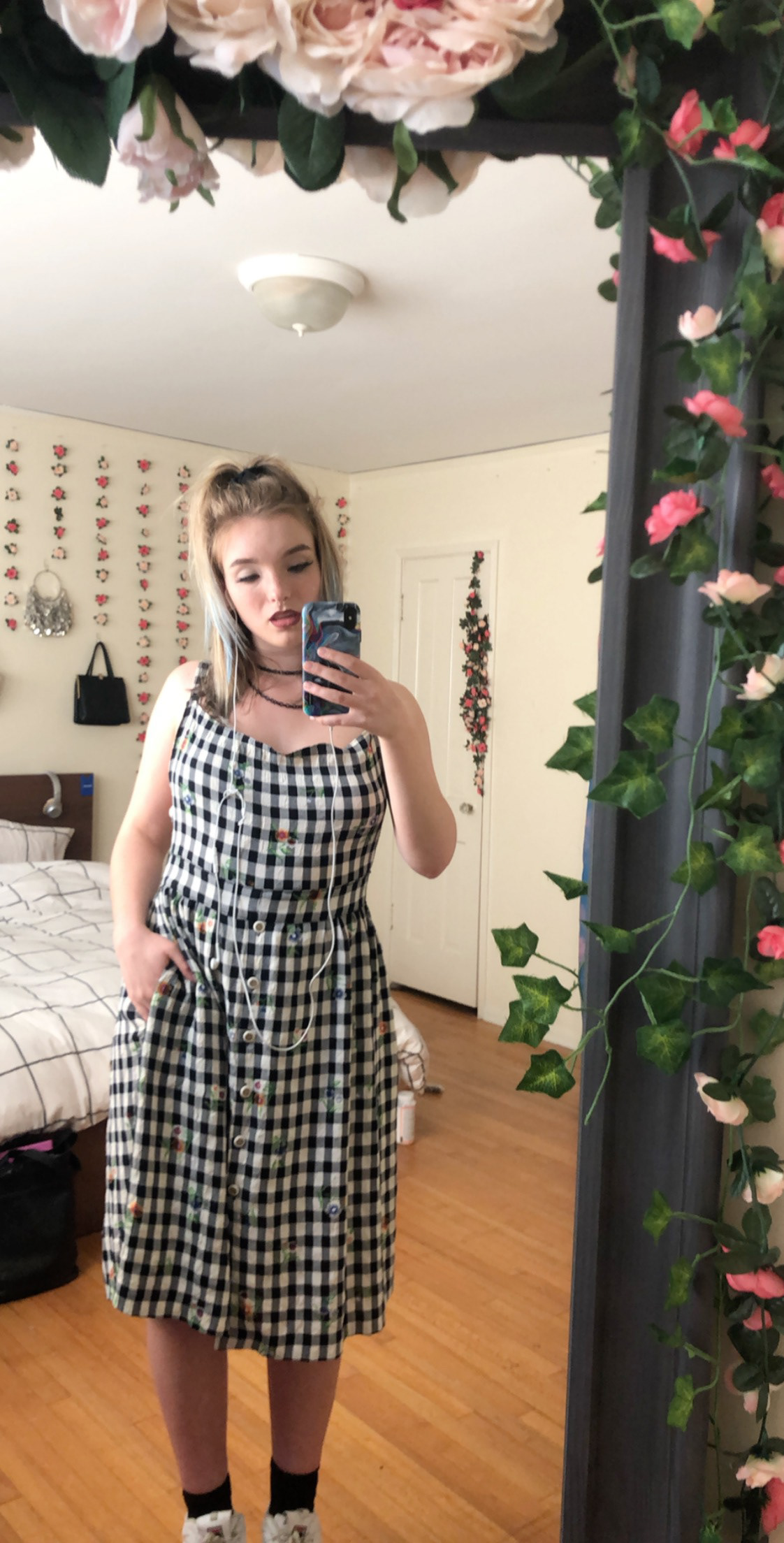 favorite thrift store in LA?
Goodwill on 6th in Santa Monica, flamingo vintage on melrose, or the buffalo exchange on LaBrea - I can't decide!
favorite thrift store ever?
 House of Vintage in Portland, OR.
favorite brand?
 Levi's for the fit, Dollskill for the aesthetic
least favorite brand?
 Lululemon - none of the clothes ever seem to fit me right!
favorite store in LA?
 Glossier store on Melrose!
favorite store in general?
Idee Craft Store in Munich, Germany.
hidden gem in LA you want to share? 
Goodwill bins- any unsold merchandise is sent here and sold by the pound. Lots of gems to be found for cheap!
favorite fashion trend?
 Giant shoes! And fishnets!!!
favorite clothing item?
 My giant blue faux fur coat from Poshmark.
a piece you love?
see below, far left!
a piece with sentimental value? why?
I wore this jacket during my senior year musical and all my friends drew on it. It just encapsulates a really special time in my life and makes me feel like all my old friends are with me.​​​​​​​
See below, middle!
weirdest piece
 you own? bonus points for a picture!
My astronaut helmet!
See below, far right!
what song would be playing as you try on clothes?
 Sugar Honey Iced Tea by Princess Nokia
describe your style in 3 words:
 Constantly evolving baby!
what was your most pivotal fashion year?
Either 7th grade (started wearing makeup and coordinating my outfits) or the year after my senior year (worked in a thrift shop and was surrounded by creative fashion choices 24/7)

.
how does fashion make you feel confident? 
Putting on the right outfit I like can either improve my mood for the whole day, signal that I want everyone to back off, make me feel like I belong in a professional setting, even calm my anxiety! That ability take charge of my day through something creative like fashion gives me an immense amount of confidence. ​​​​​​​