1. Pack everything you intended to pack for your trip
2. Only wear what you packed for three weeks
3. Every week, you can swap out one article of clothing
4. Keep track of your perceptions of your clothing and how your mood changes
If you asked me in January what my spring quarter entailed, I would have responded with the ooOOh- and ahhHH-inspiring statement, "backpacking through the Himalayas for six weeks," not "living at home with my parents and a new dog." For the past few weeks, sweatpants and hoodies have been my staple, but my wardrobe is about to take a 32-degree turn. This is the exact number of articles of clothing that I plan to wear for the next three weeks for a little experiment that Emily and I—Unravel board members—are embarking on. For the next three weeks, we'll be vicariously living out our study abroad trips from home through our clothing. We're calling it "Study Abroad, At Home Edition."
This is no pity party for canceled plans or unfulfilled credits. The state of our world is quickly collapsing at the feet of a microscopic virus. It's our responsibility to stay at home, support our healthcare workers, and help dampen the curve. But from my experience, staying at home with your mother for months while taking online classes is no walk in the park, and lots of us have turned to occupy ourselves with failed attempts at baking bread or propagating plants and scrolling through the abyss of social media. Instead, let's take this time to reflect on how we utilize our earth's resources in our everyday life, starting with clothing. ​​​​​​​
Shopping is no doubt a vice of mine and I've spent a fair chunk of my time at home scrolling through online sales. In response to my toxic habits, I've decided to limit my wardrobe to just the articles of clothing that I intended to wear while abroad. We are giving you the rules that we'll be living by, and we encourage you to follow our three-week journey or even try it out yourself!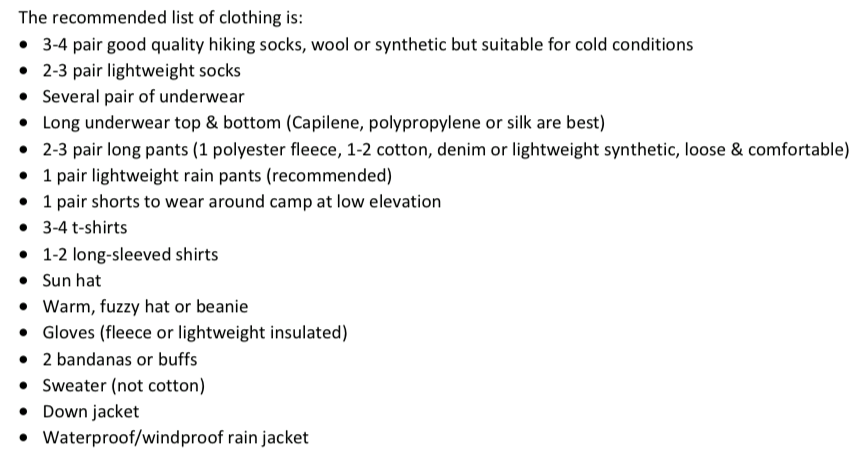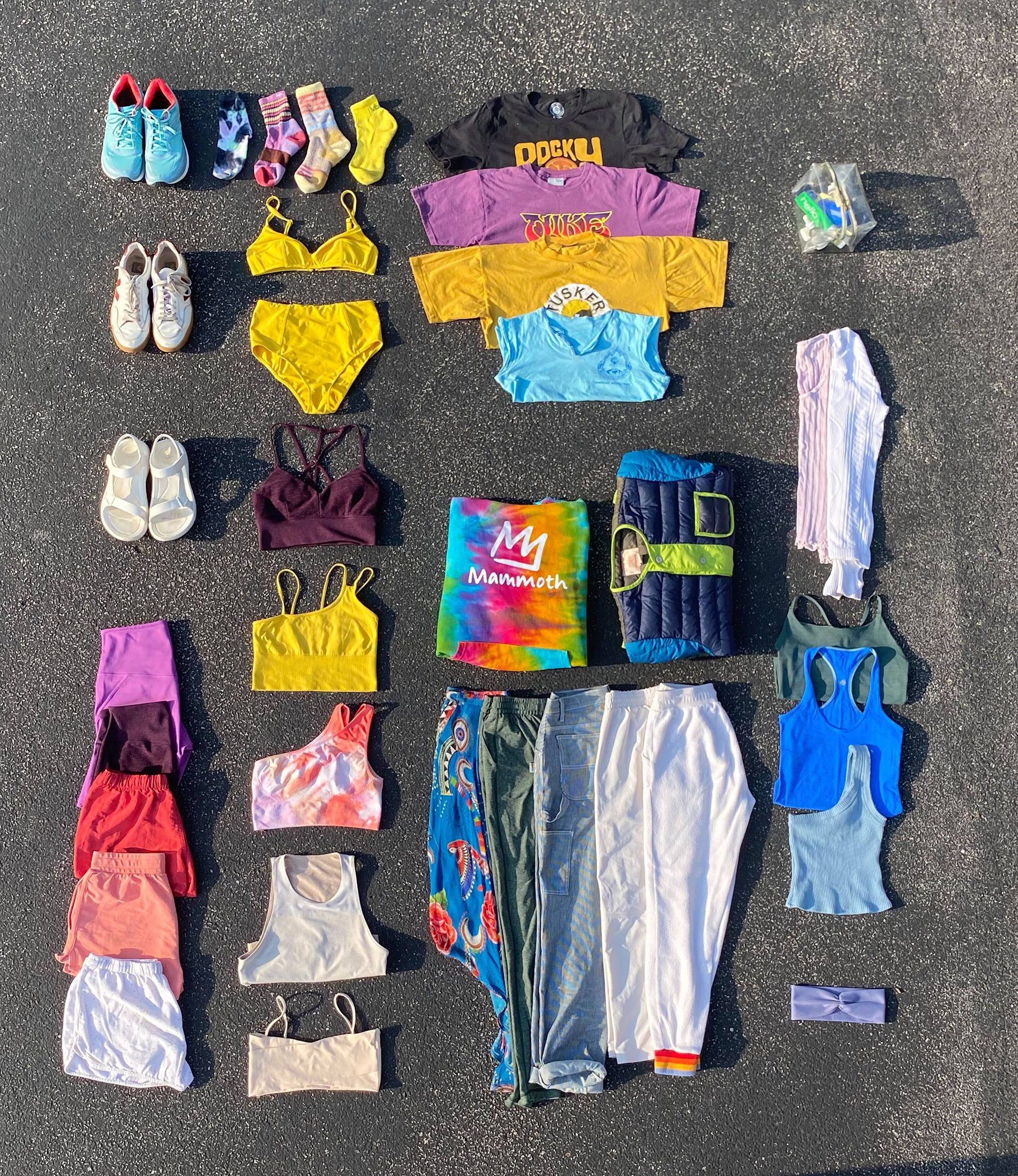 What I was going to bring (with some adjustments)
Since I live in Texas and not the Himalayas, I've made a few changes, trading out my parka for a swimsuit. I've toned down my wardrobe to five pairs of shorts, four pairs of pants, one skirt, eight cropped tops/sports bras (who can tell the difference now), four t-shirts, two long sleeves, one puffer jacket, one hoodie, four socks, and three pairs of shoes. A few masterpieces that I frequently wear are the yellow Tusker shirt courtesy of Goodwill SLO, the rainbow Marine Layer sweats, and my trustee Mammoth hoodie. The majority of these items are thrifted, stolen from my mom's closet, or splurges from companies like Girlfriend Collective, Farmrio, and Patagonia.
Throughout the next three weeks, I hope to learn more about how clothes impact our experiences and how we can make the best out of what's going on by giving ourselves small challenges. It's easy to get caught up in the negative impacts of COVID-19, but I encourage you to take this time to reflect upon (or literally unpack) your wardrobe and challenge your biases and buying habits. We encourage you guys to follow along. Plan that dream study abroad trip. Whether it's snorkeling through the great barrier reef in Australia, exploring the palazzos and villas of Florence, feeling the rush of city life in London, or trekking through the Himalayas, try to pack for it and join us in navigating the treacherous terrains of our backyards and the stairs and hallways of our childhood homes, all while living out of a suitcase.
I'll be sharing a reflection on my study abroad memories to complement Kayla's current study abroad at home! Last summer, I studied abroad for 10 weeks in Glasgow, Scotland where I had one of the best experiences of my life. I try to practice minimalism in multiple parts of my life, so I challenged myself to bring a capsule wardrobe and minimal items for my international travels.. I will be discussing my sustainable choices in preparing for study abroad and what I learned by the end of my adventure.

I planned on travelling all over Europe following my stay in Scotland, and I knew the expensive cost of bringing luggage on international flights. While I initially intended on avoiding costs by bringing barely anything, I grew to appreciate the minimalism I was incorporating in my travels. I brought only a carry-on suitcase and a backpack to Europe, so my packing choices were methodically thought out. Because I personally didn't mind wearing my clothing multiple times, I chose to pack this amount so I could do laundry every two weeks. I also thoroughly enjoyed how my minimal packing choices prevented clutter in my new living space and was easy to transport places.
​​​​​​​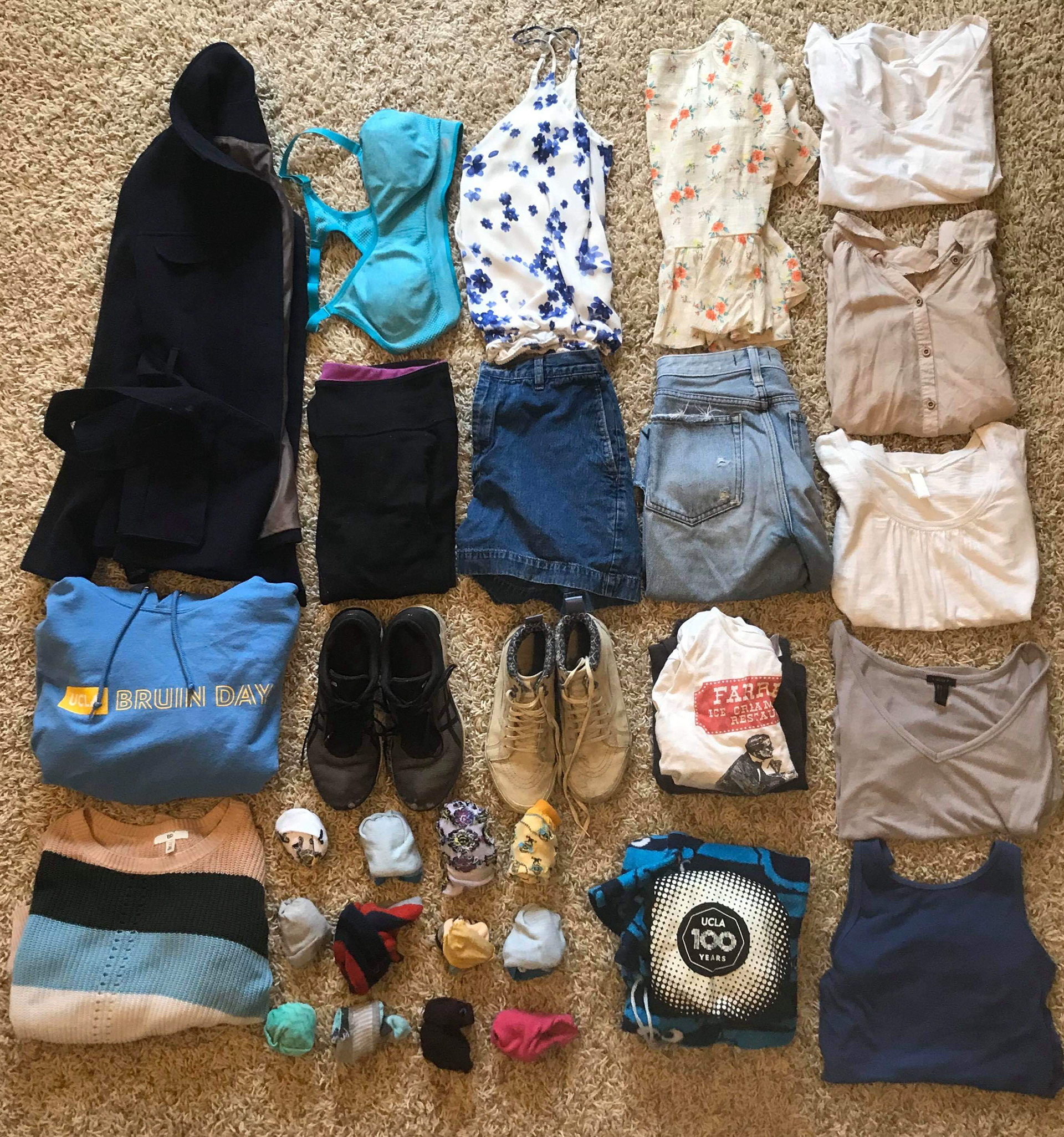 7 shirts (all were solid white or solid blue)
2 pairs of shoes (sneakers and running shoes)
While I was abroad, I noticed differences in experience that luggage choice caused between my peers and me. Bringing multiple suitcases meant spending extra time to find luggage storage at locations away from the university, as well as paying extra for storage and airline check-in fees. But, with my luggage size, I could easily store my backpack and small carry-on in hostel lockers and in the airplane overheads while avoiding those costs.

Stay tuned for the next three weeks to read about my minimalist study abroad experience!
​​​​​​​